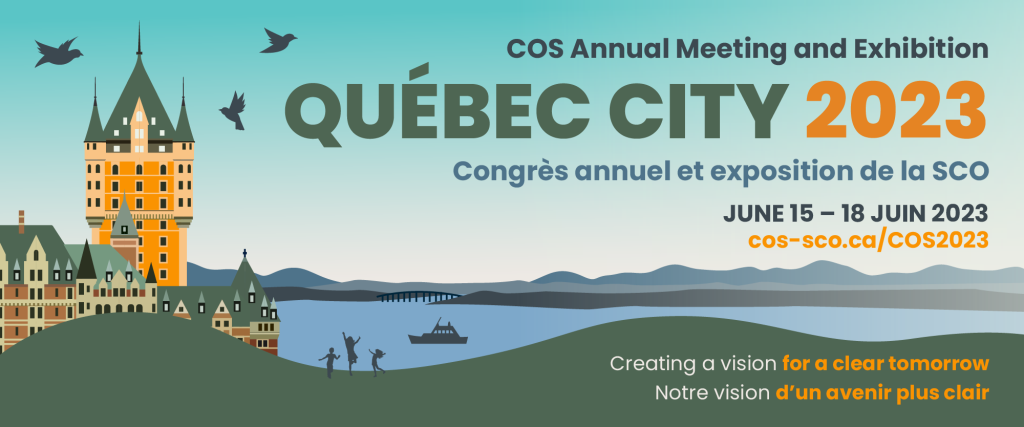 COS2023: Call For Abstracts
COS is now accepting abstracts for the 2023 COS Annual Meeting in Quebec City, Quebec. The abstract submission deadline is Monday, November 7, 2022 at 11:59 PM ET.
In addition to Paper (oral) presentations, we will continue to have the following forms of presentation:
ePosters: Say goodbye to poster tubes and printing – All accepted posters will be offered as electronic poster (ePoster) presentations.
Surgical Videos: Show off your surgical skills by submitting a video. Surgical videos will be displayed alongside the ePosters (maximum five (5) minutes in duration).
The COS Annual Meeting historically boasts an 80+% acceptance rate with abstracts making up over 50% of all presentations. With so many abstracts, it is important to set your research apart – follow these keys to a successful submission when drafting your abstract or editing your video:
Follow all abstract guidelines; read and understand the rejection criteria.
List all authors/producers and declare all financial interests for each author/producer.
Indicate that ethics approval has been obtained, where required.
Submit your abstract to the appropriate subspecialty session.
Include a short descriptive title and avoid gratuitous statements and irrelevant information.
Provide an abstract that is clear, concise, and free of errors.
Papers and ePosters:

In the body of your abstract, include study details under the headings: Purpose, study design, methods, results and conclusions. Abstracts with "results pending" or "conclusions to be discussed" will not be accepted. Information about sample size, study duration, follow-up, techniques used, etc. should be included.

Surgical Videos:

Submit a video that is well-edited, clear and easy to follow.
In the body of your written abstract, include an outline of key areas featured in your surgical video.
Before submitting your abstract, please review the relevant abstract guidelines:
Paper or ePoster abstract guidelines
Surgical video abstract guidelines
The 2023 COS Annual Meeting will take place from June 15 – 18 in Quebec City, Quebec and registration will open in early 2023. For more information, please visit the meeting website at www.cos-sco.ca/cos2023.
#COS2023