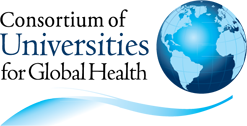 The Consortium of Universities for Global Health (CUGH) is a Washington, DC based organization of over 170 academic institutions and other organizations from around the world engaged in addressing global health challenges. CUGH was established in 2008 with funding from the Bill & Melinda Gates Foundation and The Rockefeller Foundation.
CUGH supports academic institutions and partners to improve the wellbeing of people and the planet through education, research, service, and advocacy.
While CUGH is not focused exclusively in eye health, it is a resource for global health. Ophthalmologists with a mind for global health will find their webinars touch on a broad range of subjects from around the world. To access CUGH list of future webinars and collection of previously recorded webinars, click here.