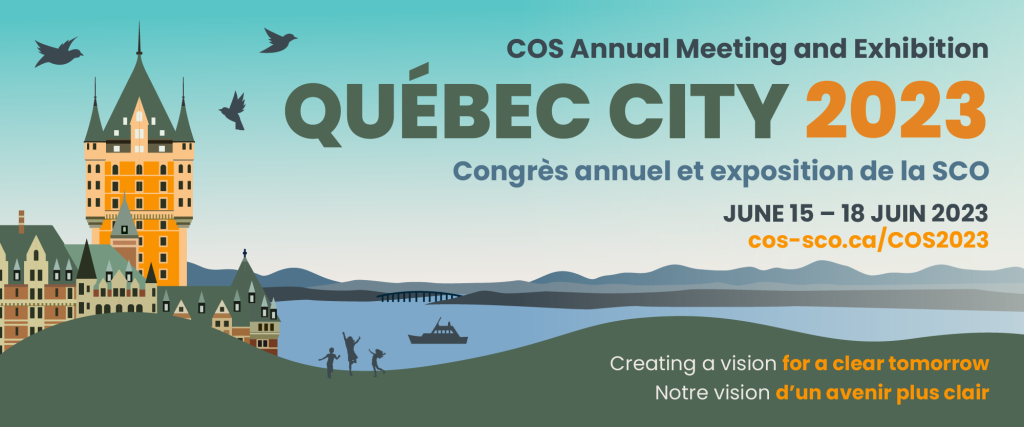 2023 COS Annual Meeting
June 15 – 18, 2023
Quebec City, Quebec
On behalf of the Canadian Ophthalmological Society and the COS Annual Meeting Planning Committee, I am thrilled to invite you to our in-person 2023 COS Annual Meeting and Exhibition from June 15-18, 2023, hosted in charming Québec City, Quebec. This year's theme is Creating a vision for a clear tomorrow.
We look forward to sharing with you our vibrant Exhibition Hall, where you can reconnect with industry partners to explore the latest treatment options and medical devices available.
Beautiful Quebec City is steeped in history, culture, and art. Its historical sites include the Château Frontenac hotel, which dates to the late 19th century. A must-see attraction! The city also boasts a bustling riverfront as well as numerous parks and gardens. With it's world-renowned dining and shopping, it is a destination not to be missed. Come and enjoy!
Once again, we look forward to welcoming you to the 2023 COS annual meeting!

Mona Harissi-Dagher, MD
Registration is now open, and we are very much looking forward to seeing and connecting with you all!
We encourage you to register before April 18, 2023, to enjoy the early bird rate (standard rates apply as of April 19).
Members who contribute to the COS Advocacy and Public Awareness Fund will receive a $100.00 discount on their early bird registration fee.
This meeting boasts an outstanding international and Canadian faculty presenting the latest in ophthalmic research and practice. The COS Annual Meeting includes invited lectures, scientific papers, wet labs and workshops, as well as networking opportunities and an extensive exhibition of ophthalmic equipment and services.
The COS Annual Meeting brings together ophthalmologists and eye care professionals across the spectrum of vision health, from research to patient care.
Once you login, click the "Event List" button on the right, select "2023 COS Annual Meeting Delegate Registration" and complete the steps to register
NB: The top priority of the COS for the 2023 Annual Meeting and Exhibition is to create a safe environment for all who choose to participate. As the COVID-19 pandemic continues to evolve, the COS will work in conjunction with the Centre des congrés de Québec to ensure we follow the most up-to-date local health and safety protocols. Currently Québec public health does recommend their continued use. The COS is strongly recommending masks be worn in all indoor areas, particularly when you will be in close proximity to others. The COS will continue to monitor and adapt to the evolving situation and we will send out notification of protocols for participants prior to attending the event and links to up-to-date information will also be posted: https://www.quebec.ca/en/health/health-issues/a-z/2019-coronavirus