The Canadian Ophthalmology Mentorship Program (COMP)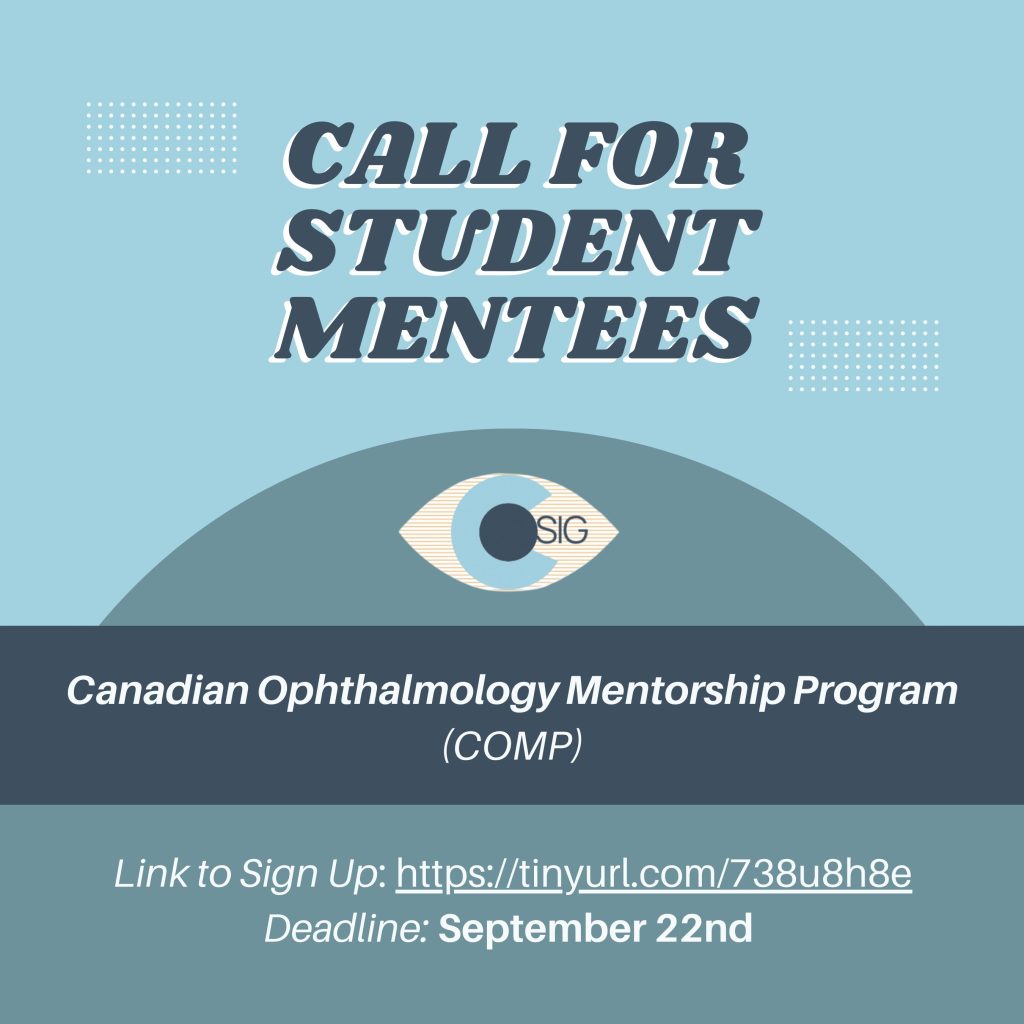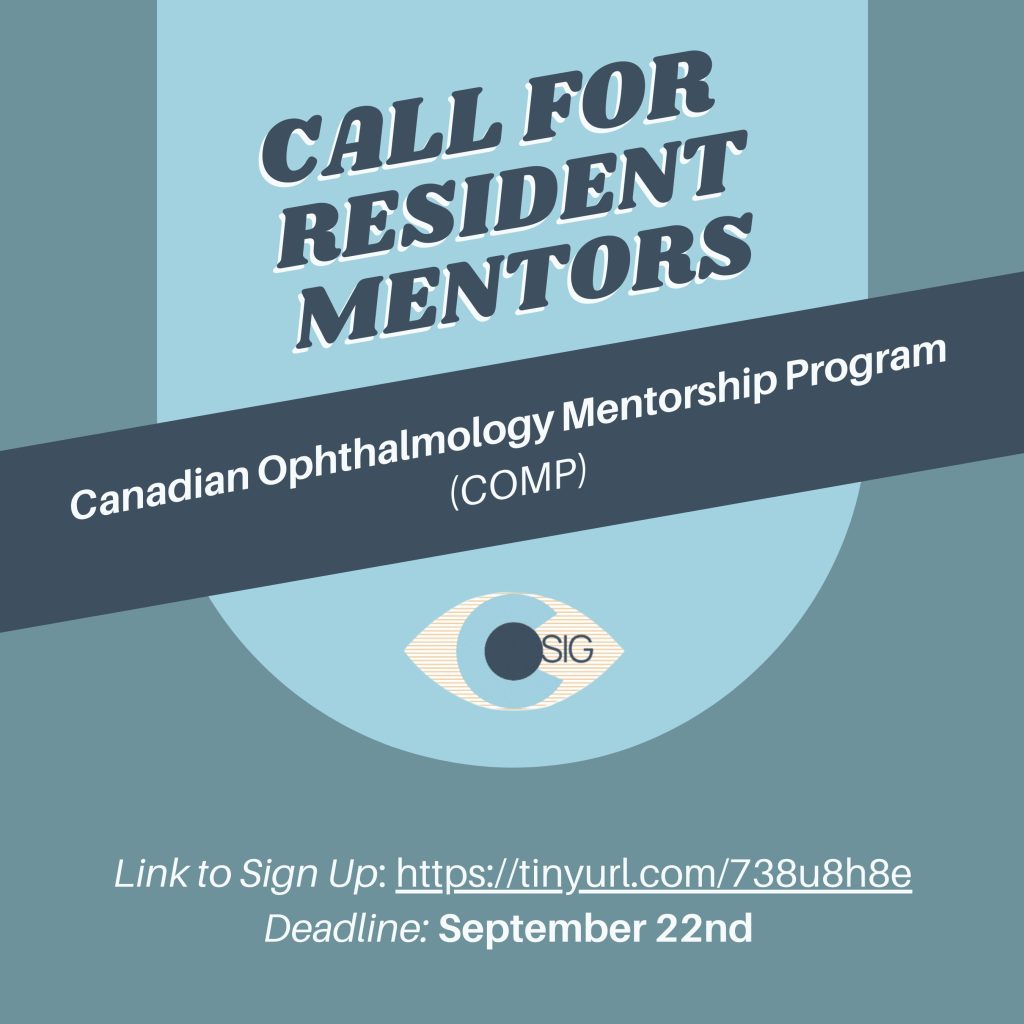 The Canadian Ophthalmology Mentorship Program (COMP) is an annual national mentorship program that connects 3-4 Canadian medical students per ophthalmology resident mentor for the purposes of networking, career exploration, and community building. Recruitment is now open for ophthalmology resident mentors and Canadian medical student mentees.
Sign-ups are open till September 22, 2023.
Link to sign up: tinyurl.com/738u8h8e. 
Contact [email protected] with any questions.
Where All of Ophthalmology Meets®

AAO 2023 will take place in Moscone Center, San Francisco, CA, U.S.A.
Dates
Friday–Monday, Nov. 3–6
AAO 2023
AAOE® Practice Management Program
AAOP™ Technician Learning Track
Friday–Saturday, Nov. 3–4
Subspecialty Day 2023
ASORN 2023
Saturday–Monday, Nov. 4–6
AAO 2023 Expo
For more information and to register click here.
Surgical Retina Fellowship program at the Ivey Eye Institute and Western University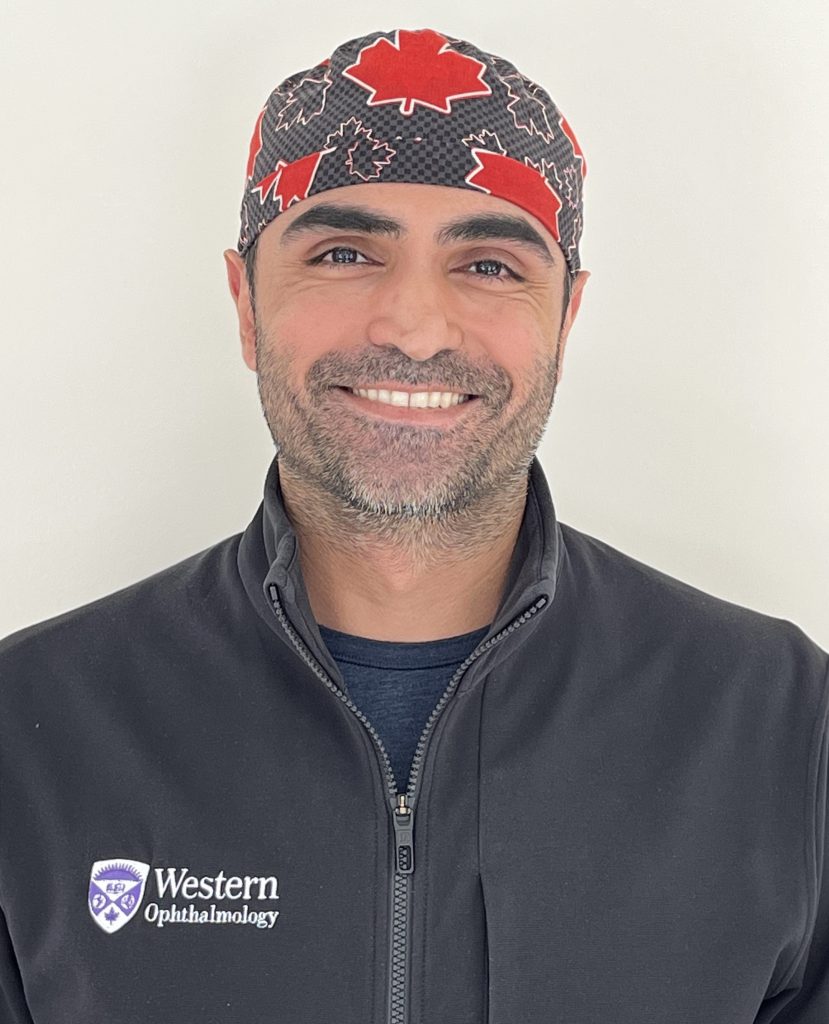 Dr. Munil Iqbar is pleased to announce the initiation of a Surgical Retina Fellowship program at the Ivey Eye Institute and Western University in London, Ontario
The fellowship will be 2 years in length, and will include exposure to clinical aspects of retina disease management.  The fellow will have the opportunity to evaluate both new and existing patients.  The pathology will include but not be limited to: Age-Related Macular Degeneration, Diabetic Retinopathy, Retinal Vascular Diseases, Uveitis, Hereditary Retinal Diseases, Surgical Retinal and Vitreoretinal diseases, including vitrectomy, retinal detachment surgeries, macular surgeries, complex IOL cases, scleral buckling techniques, suprachoroidal drainage, along with pre/post-operative management for surgical cases.
Goals and Objectives:
To gain exposure and proficiency in the diagnosis and management of medical and surgical retinal conditions to prepare a candidate for a clinical academic career retinal surgery with subspecialty training.
To obtain training in the appropriate use and interpretation of diagnostic tests, including:
• Fluorescein Angiography
• Optical Coherence Tomography
• Ultrasonography
To develop proficiency in a number of non-surgical procedures, including:
• Laser Photocoagulation
• Photodynamic Therapy (PDT):
• Intravitreal and subTenons injections of pharmaceutical agents:
To develop proficiency in surgical procedures, including:
• Vitrectomy
i. Retinal detachment repair
ii. Macular cases
iii. Vitreous hemorrhage
• Scleral buckling techniques
• Secondary intraocular lens cases
To provide exposure to the evaluation of patients with suspected malignancy, the ancillary testing and evaluation of treatment options and management.
To develop skills for lecturing to colleagues and residents on various aspects of medical and surgical retinal disease.
To develop critical appraisal skills and to be aware of current and completed research in the area of medical retinal disease.
Research and Education:
The fellow will be expected to be involved with retina related basic and/or clinical research. Projects will be outlined for the fellow and they will be expected to present this at a national or international meeting. Dedicated time for research will be scheduled into rotation blocks as described above.
The fellow is expected to enhance resident teaching and clinical discourse among the department. Presentation of interesting/educational cases at grand rounds is expected. The fellow will perform 2 grand rounds presentations per academic year.
Application Process:
Interested applicants should send their curriculum vitae as well as 3 recent letters of reference from surgical mentors directly to Dr. Munir Iqbal at [email protected] or Mia O'Neil at mia.o'[email protected]
Applications to the Fellowship Programs must include the following:
• Letter of Intent
• Up-to-date Curriculum Vitae
• 3 Letters of Reference
Eligibility Requirements for Canadian and International Medical Graduates:
• Candidates must possess a medical degree from a University recognized by the Medical Council of Canada (MCC)
• Candidates must have completed an Ophthalmology residency that is recognized by the College of Physicians and Surgeons of Ontario (CPSO)
• International Medical Graduates do not need to write additional exams, but must be approved by the PGME Office at Western University
For More Information and to Register Click here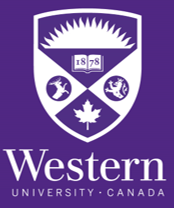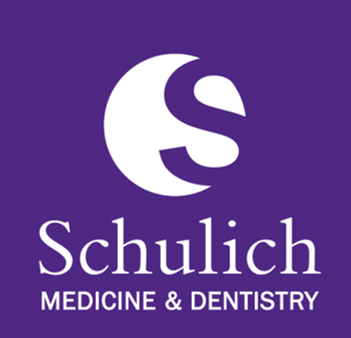 62nd Annual Ophthalmology Walter Wright Symposium – Glaucoma Through Our Eyes

December 1 – 2, 2023 — Metro Toronto Convention Centre
The 62nd Annual Walter Wright Symposium will explore the world of glaucoma management through the many eyes of the eye-care team – from patients to trainees to specialists to researchers. Through multi-modal presentations including lectures, panel discussions, audience engagement and debates, we will review the current status and future possibilities of glaucoma management from multiple perspectives. We welcome a mix of international and domestic speakers to help guide us through the journey of diagnostic, medical, laser, initial surgical, and research in today's glaucoma world. Through these different viewpoints, we aim to provide key practical pearls for residents, fellows, community and academic ophthalmologists as well as allied health personnel. We look forward to connecting and engaging with you at this year's symposium.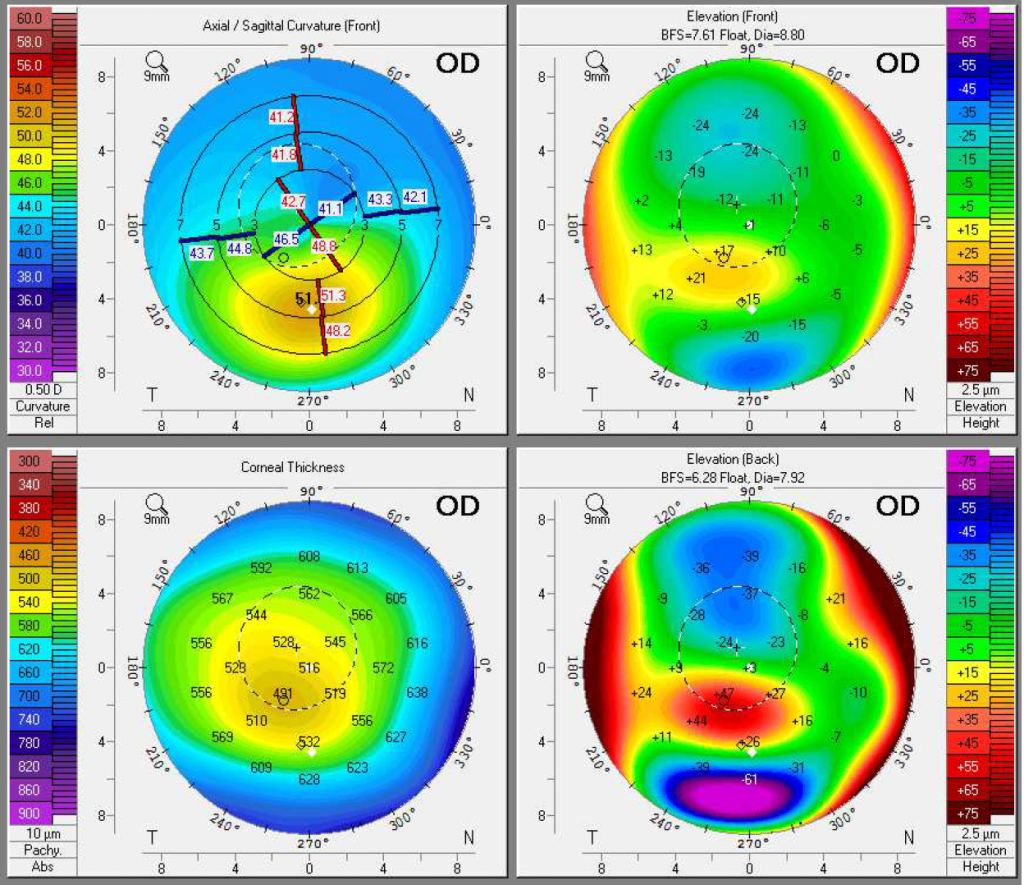 Cornea Learning Modules
This educational program consists of online learning modules of corneal topography and tomography using a case-based format, with the goal of improving knowledge and comfort in interpreting corneal imaging.
Learning Objectives
· Understanding differences between topography and tomography, and which clinical scenarios require use of corneal imaging
· Understand different maps and data presented in topography and tomography, and how they are used in the diagnosis and management of corneal related anomalies
· Interpret corneal imaging in context of normal and diseased eyes (including keratoconus, corneal ectasias, pterygium, assessment prior to cataract or refractive surgery)
CanMEDS Roles
· Medical expert
· Scholar
This is a Member's Only Section 3 MOC Accredited Activity. You must first log in to your account.
Click here for the Modules Link
This activity is an Accredited Self-Assessment Program (Section 3) as defined by the Maintenance of Certification Program of the Royal College of Physicians and Surgeons of Canada and approved by the Canadian Ophthalmological Society. You may claim a maximum of 2 section 3 credits.
CCOR Fellowship Directory
This is a sortable directory of subspecialty clinical fellowships attended by over 210 Canadian ophthalmology residents. It includes contact information for past residents who indicated they were open to being contacted by prospective fellows.
CCOR Post-residency Guidebook
A Canadian Ophthalmology Resident's guide to preparing for life after residency. Learn about the career in general vs subspecialty ophthalmology practice, compare different subspecialties, and how to apply for fellowship. Insights shared are a compilation of previous CCOR fellowship talks and tips from a recent survey of graduating residents.
Cornea Surgical Video Learning Series – IOL Complications: Best Management Approaches
When: Sep 21, 2023 07:30 PM Eastern Time (US and Canada)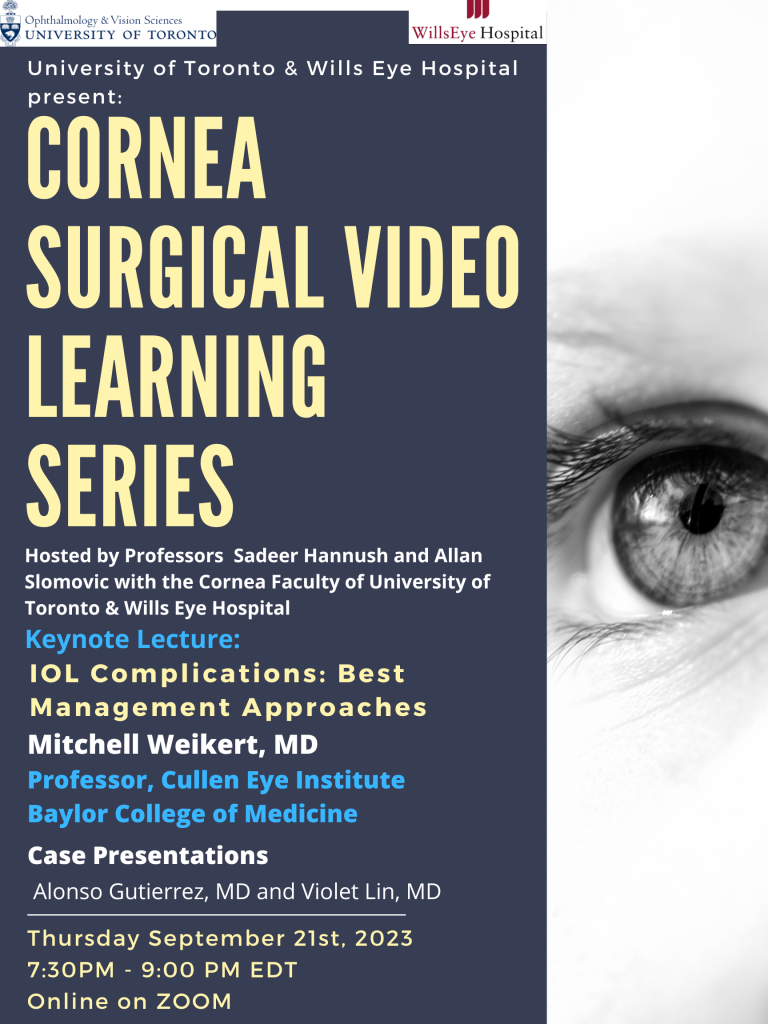 Wills Eye Hospital and the University of Toronto are excited to bring you the next installment of the Cornea Surgical Video Learning Series
Co-moderated by Professor Sadeer Hannush (Wills Eye Hospital) and Professor Allan Slomovic (University of Toronto).

Keynote Presentation:
Professor Mitchell Weikert, MD
Cullen Eye Institute
Baylor College of Medicine

Guest panelists
Beeran Meghpara, MD and Aditya Kanesa-Thasan, MD (Wills Eye Hospital)
Randal Ulate, MD, FRCSC and Mojgan Hassanlou, MD, FRCSC (University of Toronto)
Surgery Case Presentations:
Alonso Gutierrez, MD (University of Toronto)
Violet Lin, MD (Wills Eye Hospital)

Register in advance for this webinar
After registering, you will receive a confirmation email containing information about joining the webinar.
The evening will as usual be recorded and placed online for viewing.
If you would like to visit any of our prior series, please see the link here.
CME credits are available for the following:

· Royal College Maintenance of Certification Section 1: 7.5 hours (1.5 Section 1 hours per session)

· American Medical Association Category 1: 7.5 credits (1.5 Category 1 credits per session)

· European Union for Medical Specialists UEMS-EACCME®: 7.5 credits (1.5 ECMEC credits per session)
COS 2023 – Looking Beyond VEGF Suppression: Optimizing the Patient Journey Video Now Available for Viewing
Looking Beyond VEGF Suppression: Optimizing the Patient Journey was held on Saturday, June 17 from 6:30 – 8:00 am ET at the 2023 COS Annual Meeting.
Our host, Dr. Wai-Ching Lam, joined by four international experts, discussed the following objectives:
Outline the role of the Tie-2/ang pathway in DME and nAMD and how it may impact patient outcomes
Identify the important biomarkers on structural OCT that can help predict treatment response in DME and nAMD
Discuss real-world case presentations and when to switch patients from one agent to another
International Experts
Shaheer Aboobaker, MD

Toronto, ON
Case presentations

Diana Do, MD

Stanford, CA
Update on faricimab in diabetic macular edema and neovascular AMD

Sunir Garg, MD

Philadelphia, PA
Emerging treatments for neovascular AMD

SriniVas Sadda, MD

Los Angeles, CA
Biomarkers to help predict treatment response in DME and nAMD