53rd Sally Letson Symposium
Registration for the 2022 Sally Letson Symposium Now Open!

Join us for the 53rd Sally Letson Symposium chaired by Dr. Michael E Snyder, Cincinnati Eye Institute, and Dr. Mona Koaik (Co-chair), University of Ottawa Eye Institute.
This year's topic is "Adopting Innovation: Staying Ahead Without Falling Behind".
Learn from international speakers on topics on adapting innovation into practice in the field of ophthalmology. The program will include high-yield sessions on cataract and refractive surgery planning and techniques, subspecialty pearls and updates, and general eye care topics.
Take advantage of our Early Bird rates and register today! Advanced registration before the meeting date is encouraged to avoid long wait times onsite. We look forward to seeing you September 8-10 in Ottawa.
Preliminary Schedule, Accommodation and Travel Discount Information
Early Bird Deadline ends August 15
Telling It Like It Is Meeting

Drs. Robert Osher and Richard Lindstrom unite to bring you a comprehensive CME meeting
FEBRUARY 15-19, 2023
Location: Tampa Marriott Water Street Hotel
This meeting was established by Dr. Robert H. Osher a decade ago to deliver a candid style of teaching and learning on anything that cataract surgeons (and rising trainees) might find useful. To keep up with the educational needs of the attendees as their role in patient care continues to evolve, this meeting is about to enter phase two in 2023. Dr. Richard L. Lindstrom joins Dr. Osher as Program Director and the meeting is now titled "Telling It Like It Is" to more accurately indicate the program will cover all critically important areas for ophthalmologists.
To find out more and to register click the link below.

CJO June 2022 Issue Highlights
The June 2022 CJO is now available online. Here are some of the highlights:
Resident Perspectives + visual abstract: Our amazing team of residents have summarized 7 articles with a focus on what's most relevant to ophthalmology learners here in Canada and around the globe, including the article featured in our June visual abstract, Postoperative supine position after primary Descemet-stripping automated endothelial keratoplasty reduces graft detachment rate.
Original research articles:
• Clinical features, visual outcome, and poor prognostic factors in occlusive retinal vasculitis
• Effectiveness of a 3D-printed mask fitter in an Ophthalmology setting during COVID-19
• Research productivity and impact of Canadian academic ophthalmologists: trends in H-index, gender, subspecialty, and faculty appointment
• Comparison of outcomes in patients with and without soft contact lens wear following Boston keratoprosthesis type 1
• Incidence of steroid response in microinvasive glaucoma surgery with trabecular microbypass stent and ab interno trabeculectomy
Research letters, photo essays, and case reports:
• Outcomes of first cases of DMEK at a Canadian university hospital centre [research letter]
• Retinal racemose hemangioma characterization with multimodal imaging [photo essay]
• IgG4-related orbital disease [photo essay]
• Rare case of extramacular choroidal macrovessel [case report]
• Multiple myeloma with concurrent herpes zoster ophthalmicus [case report]
• Wellness among Canadian ophthalmology resident physicians: a national survey [correspondence]
Follow the CJO on social media:
Twitter: @CanJOphth
Instagram: @cjo_jco
Facebook: CanJOphth
Canadian Eyecare Today Issue No. 1
The first issue of Canadian Eyecare Today for 2022 is now available for your reading pleasure. This publication examines issues and topics that are relevant to today's clinician in the treatment and management of eye disease from a Canadian perspective.

To subscribe to this publication now, please click here.

Some of the content you will find in this issue THE EVOLVING ROLE OF OCT IN PATHOLOGIC MYOPIA
Carl Shen, MD Mark Seamone, MD Mark Greve, MD

METHODS TO TREAT MYOPIA PROGRESSION IN PEDIATRIC PATIENTS
Michael J. Wan, MD

SPOT THE DIFFERENCES: CHALLENGES IN DETECTING GLAUCOMA IN THE MYOPIC PATIENT
Cindy M.L. Hutnik, MD, PhD, FRCSC and Michael T. Kryshtalskyj, MD
Kian M. Madjedi, MD, MPhil
Andrew C.S. Crichton, MD, FRCSC

CATARACT SURGERY IN THE MYOPE: WHAT YOU SHOULD KNOW
Joshua Teichman, MD, MPH, FRCSC

GLAUCOMA AND MYOPIA: RISK FACTORS, PATHOPHYSIOLOGY, AND TREATMENT
Jing Wang, MD Please feel free to forward the publication link to your peers!
Canadian Ophthalmology Curriculum Topics & Objectives
Canadian Ophthalmology Curriculum Topics & Objectives
This document is the finalized list of curriculum topics and objectives for Canadian undergraduate medical education in ophthalmology. The development of this list was based off three resources: The 2018 objective list developed by the Association of University Professors in Ophthalmology (AUPO) with endorsement from the American Academy of Ophthalmology (AAO)1, the AUPO's 2009 Ophthalmology Core Knowledge and Skills competencies2,and the Medical Council of Canada's (MCC) objectives pertaining to ophthalmology3.
After a preliminary list of objectives was made based off the previously mentioned resources, a survey was sent to the members of AUPO asking for expert opinion on each curriculum objective and if they warrant inclusion. Based on this survey, talking points were created and later discussed in a virtual meeting where the list was finalized.
*Urgent and red flag conditions have been denoted with a red Asterix. These warrant urgent referral to an ophthalmologist.
Download the full PDF document here:

Video – Orbis Speaker Series: Experiences and Opportunities in International Eye Health

For this special Orbis Speaker Series event, we teamed up with the Canadian Council of Ophthalmology Residents (CCOR). Dr. Hunter Cherwek dives into the world of our Orbis Volunteer Faculty and discusses his personal experiences throughout his incredible career. Attendees also heard from three speakers who have recently graduated and their own experiences attending an Orbis trip in 2019. They shared important lessons learned in their schooling, Orbis involvement, and current careers, helping to guide and shape possible new opportunities for attendees.
Guest Speakers: Drs Hunter Cherwek, Dr. Solin Saleh, Dr. Irfan Kherani, Dr. Cristina Bostan
View the video here:

Hawaiian Eye 2023 – Retina

Hawaiian Eye is a meeting where everyone is motivated to look at new technologies and ideas together. The conference includes practice management topics to educate physicians, nurses and administrators in the room together to gain a shared viewpoint from the entire practice. There are interactive pro/con debates to create a fun and interesting format featuring point/counterpoint panel discussions with audience participation.
CPD Credits
Hawaiian Eye and Retina offer separate educational programs where comprehensive ophthalmologists can earn 32.5 CME credits, retina specialists can earn 25.5 CME credits, nurses/allied health professionals can earn 17.5 CNE/JCAHPO credits and administrators can earn 17.5 COE credits.
Access Details
For more information and to register, visit the event website.
2022 COS Annual Meeting ePosters and Surgical Videos
2022 ePosters and Surgical Videos are available for on-demand viewing at eposters.cosprc.ca  You can create your account now. You can also visit the ePoster kiosk at the Halifax Convention Centre in the Convention Hall Atrium to view ePosters and Surgical Videos onsite at the 2022 COS Annual Meeting. To create your account, please CLICK HERE.
The American Society of Ophthalmic Plastic and Reconstructive Surgery – International Symposium on Wartime Ophthalmic Trauma: Part II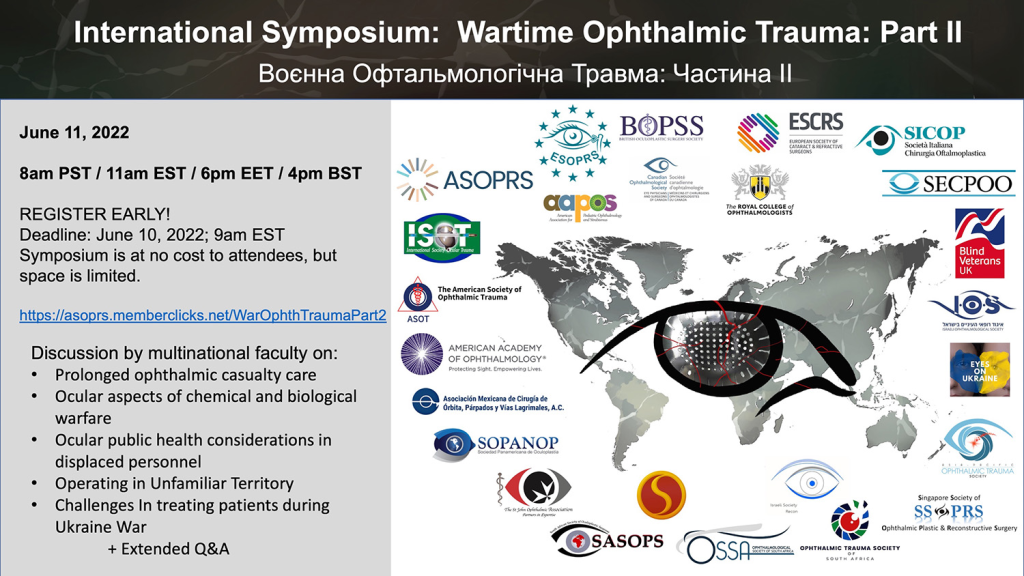 Date: June 11, 2022
Time: 11 AM – 1 PM EASTERN DAYLIGHT TIME (US/CANADA)

REGISTRATION DEADLINE:
9 AM EASTERN DAYLIGHT TIME
June 10, 2022


We invite you to join us for this event focusing on a variety of general topics that will be of value to a broad spectrum of providers, from front line first responders to first non-ophthalmic providers to ophthalmologists and subspecialists. Topics include:  
Weapons of war and mechanisms of ocular injury
Combat eye injuries
The Blast Eye
Damage Control Ophthalmology and Zones of Care in ocular trauma
Initial evaluation and treatment of ocular injuries
To register, click the link below: