COS – THE EYECAN PODCAST- New Episodes!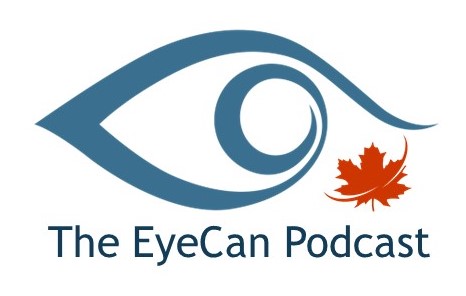 The podcast features guest speakers from across Canada and innovative practitioners from around the world discussing diverse topics and how they impact ophthalmology. Topics range from emerging techniques and technologies to building individual resilience as Canadian physicians. Through it all, this podcast aims to build connections within the ophthalmological community, share our experiences, and to truly promote the value the profession brings to the lives of patients.
Episode Guide Season 2
Episode 1: Intro to Season 2 and Part 1 of w/guest Lauren Brecher

Episode 2: Intro to Season 2 and Part 2 of w/guest Lauren Brecher

Episode 3: Being a resident today w/guest Dr. Michael Nguyen

Episode 4: Host Dr. Guillermo Rocha interviews another host, Dr. Setareh Ziai.

Episode 5: Strabismus Surgery w/guest Dr. Yi Ning J. Strube

Episode 6: Equity, Diversity, and Inclusion w/guest Dr. Nupura Bakshi

Episode 7: 2022 at the Canadian Ophthalmological Society w/guest Dr. Colin Mann

Episode 8: Talking Markets and Investments with MD Financial w/guest Craig Maddock and Ian Taylor

Episode 9: Bioinformatics, deep learning, and clinical epidemiology w/guest Dr. Cecilia Lee

Episode 10: Mindfulness and Physician Wellness w/guest Dr. Agnes Wong

Episode 11: Global Ophthalmology w/guest Dr. Vivian Yin

Episode Guide Season 1
Episode 1: Podcast introduction and working in COVID

Episode 2: Gene Therapy ft. Dr. Robert K. Koenekoop

Episode 3: Innovation in Glaucoma ft. Dr. Hady Saheb

Episode 4: COVID-19 Second wave and beyond ft. Dr. James Chodosh

Episode 5: Navigating Retirement ft. Dr. Yvonne Buys

Episode 6: Physician Wellness w/guest Dr. Nina Ahuj‪a‬

Episode 7:The COS in 2021 w/guests Dr. Colin Mann and Elisabeth Fowle‪r‬

Episode 8: Competence by Design w/guest Dr. Stephanie Baxter

Episode 9: The Eye Bank w/guest Dr. Clara Chan

Episode 10: Innovating During a Pandemic w/guest Dr. Ike Ahmed

Episode 11: Physician-focused Financial Advice w/MD Financial Management
2022 COS Annual Meeting and Exhibition

The 2022 COS Annual Meeting and Exhibition will take place in-person in Halifax, Nova Scotia
June 9 – 12, 2022.
This meeting boasts an outstanding international and Canadian faculty presenting the latest in ophthalmic research and practice. The COS Annual Meeting includes invited lectures, scientific papers, wet labs and workshops, as well as networking opportunities and an extensive exhibition of ophthalmic equipment and services.
The COS Annual Meeting brings together ophthalmologists and eye care professionals across the spectrum of vision health, from research to patient care.
Meeting Learning Objectives
By participating in this year's meeting, attendees will:
Integrate into their practice, knowledge and skills gained from the sharing of Canadian and international research and scientific studies

Discuss recent advances in the diagnosis and treatment of eye diseases

Compare and contrast core concepts, new advances and clinical experiences by networking with colleagues and internationally renowned keynote speakers

Enhance or develop new skills through hands-on learning experience in a Surgical Skills Transfer Course

Appraise new and innovative technology and discuss developments in treatment and medical devices with industry representatives in the Exhibition Hall

If you have already registered thank you! We look forward to seeing you in Halifax.
For further information visit the 2022 COS Annual Meeting website: www.cos-sco.ca/COS2022
CJO December 2021 Issue Highlights
The December 2021 CJO is now available online. Here are some of the highlights:
Resident Perspectives + visual abstract: Our residents have summarized 4 articles that are relevant to ophthalmology learners here in Canada and around the globe, including the article featured in our June visual abstract, Micropulse trans-scleral laser therapy outcomes for uncontrolled glaucoma: a prospective 18-month study.
Review and original research articles:
Research letters and case reports:
Follow the CJO on social media:
Twitter: @CanJOphth
Instagram: @cjo_jco
Facebook: CanJOphth
CCOR Fellowship Information Session – 2022
The Council of Canadian Ophthalmology Residents (CCOR) would like to invite you to their annual CCOR Fellowship Talk #1 of 2022
Date: January 22nd
Time: 4pm EST – 5pm EST
Description:
This talk is targeted to ophthalmology residents across Canada. Speakers are senior residents or junior staff who recently applied to fellowships and will speak about the following subspecialties:
Pediatric Ophthalmology – Dr. Harald Gjerde
Cornea – Dr. Cristina Bostan
Glaucoma – Dr. Zoya Chaudhry
Uveitis – Dr. Eri Celo
Question & Answer Period (Panel)
There will be a Question Period at the end of the session. Other subspecialties will be represented in subsequent talks.
Registration:
If you are interested in attending and have any questions to submit prior to the session please fill out this google form with your email address to where the Zoom link will be sent out: https://bit.ly/31EW7ua
Case-Based Neuro-Ophthalmology: Multiple choice questions and explanations
Case-Based Neuro-Ophthalmology: Multiple choice questions and explanations is an online textbook designed for ophthalmology and neurology residents learning neuro-ophthalmology through cases and multiple-choice questions.

Contact Person: Jonathan Micieli, [email protected]
Canadian Neuro-Ophthalmology Group eTextbook of Eye Movements
Canadian Neuro-ophthalmology Group eTextbook of Eye Movements is an Online Textbook that serves as a comprehensive clinical review of ocular motor function and dysfunction.

Optics for Residents with Dr V Penner
Optics for Residents with Dr V Penner A series of short youtube videos on various topics in optics intended for residents. Dr. Penner discusses approaches and answers to common optics questions.

Mindfulness & Compassion Certificate Training
The Mindfulness and Compassion training that is co-facilitated by Agnes Wong, MD, PhD, FRCSC will be offered again in January 2022. It consists of 5-weekend modules spread over 9 months that are entirely online.
Learning Objectives
The course provides guidance and support for healthcare professionals to cultivate mindfulness, compassion, and self-compassion. It also covers essential topics, including systems thinking, non-violent communication, and integrity, that are critical for our well-being as we work in a highly complex healthcare environment. It is also an excellent opportunity to meet like-minded people to share their experiences and learn and grow together in a supportive and safe environment.
Several colleagues participated in this course this past year, and the feedback has been overwhelmingly positive.
Training Dates
The live training runs from 9:00 am – 4:00 pm EST on the following dates:
Module 1
Saturday January 22
Sunday January 23
Module 2
Saturday March 26
Sunday March 27
Module 3
Saturday May 14
Sunday May 15
Module 4
Saturday July 9
Sunday July 10
Module 5
Saturday September 17
Sunday September 18
Here is more information and where you can register:

Cornea Surgical Video Learning Series- The Management of Challenging DMEK Operations
The next session of the Cornea Surgical Video Learning Series, co-moderated by Professor Sadeer Hannush (Wills Eye Hospital) and Professor Allan Slomovic (University of Toronto) and their respective Cornea Departments will be hosted on the following date:
Date: Dec 11, 2021,
Time: 1:00 PM Eastern Time (US and Canada)
Topic: The Management of Challenging DMEK operations by Dr Friedrich Kruse, past president of EuCornea
Challenging DMEK cases will be presented our cornea fellows and discussed by our Cornea Faculty  
Accreditation: The Educational Event is accredited for 1.5 Section 1 Royal College CPD Credits.
Access details:


After registering, you will receive a confirmation email containing information about joining the webinar.

This session will be recorded and placed online for future viewing. Past sessions may be accessed here also.