DOVS RESIDENT TEACHING – IN-PERSON – Paeds Lids, Lacrimal, Orbit 
Date: Friday, September 29, 2023
Time: 8:45 AM – 12:00 PM
Topic: Paeds Lids, Lacrimal, Orbit 
Speakers: Dr. Dan DeAngelis
Location: 45 Brunswick Ave. Multi-Media Room B, Main Floor
DOVS GRAND ROUNDS – VIA ZOOM – Controversies in Cataract Surgery
Date: Friday September 29, 2023
Time: 7:30 AM – 8:30 AM
Topic: Controversies in Cataract Surgery
Speaker: Dr. Steve Arshinoff
Zoom Link – Register in advance for this webinar:

After registering, you will receive a confirmation email containing information about joining the webinar.
OBJECTIVES:
1. To be able to objectively evaluate FLACS – Can it be helpful?
2. To gain an in depth understanding of progress with intracameral antibiotics.
3. To understand how to partition spaces with OVDs.
DOVS CORNEA ROUNDS – VIA ZOOM – Keratoprosthesis and the Osteo-Odonto-Keratoprosthesis – Australian Perspectives
Date: Thursday September 28, 2023
Time: 5:00 PM – 6:00 PM
Topic: Keratoprosthesis and the Osteo-Odonto-Keratoprosthesis – Australian Perspectives
Speaker: Dr. Tanya Trinh
Zoom Link – Register in advance for this webinar:

After registering, you will receive a confirmation email containing information about joining the webinar.
OBJECTIVES:
1. Appreciate the various types of keratoprosthesis for the treatment of bilateral corneal blindness
2. To understand the indications, role, benefits, and risks of the osteo-odonto-keratoprostheses.
3. To collaborate on innovation and future directions of keratoprostheses.
62nd Annual Ophthalmology Walter Wright Symposium – Glaucoma Through Our Eyes

December 1 – 2, 2023 — Metro Toronto Convention Centre
The 62nd Annual Walter Wright Symposium will explore the world of glaucoma management through the many eyes of the eye-care team – from patients to trainees to specialists to researchers. Through multi-modal presentations including lectures, panel discussions, audience engagement and debates, we will review the current status and future possibilities of glaucoma management from multiple perspectives. We welcome a mix of international and domestic speakers to help guide us through the journey of diagnostic, medical, laser, initial surgical, and research in today's glaucoma world. Through these different viewpoints, we aim to provide key practical pearls for residents, fellows, community and academic ophthalmologists as well as allied health personnel. We look forward to connecting and engaging with you at this year's symposium.

DOVS RETINA CONNECT – VIA ZOOM – Retina cases that shock and awe
Date: Tuesday January 24, 2023
Time: 7:30 PM – 8:30 PM
Topic: Retina cases that shock and awe
Speakers: Dr. Jose Pulido
Zoom Link – Register in advance for this webinar:

After registering, you will receive a confirmation email containing information about joining the webinar.
Toronto Cataract Conference
January 14, 2023 — Hilton Downtown Toronto
The 2023 Toronto Cataract Course returns with an in-person format for cataract surgeons from across Canada to discuss and learn about the latest intraocular lens advancements as well as improvements in surgical and perioperative technology. We will also discuss the management of complex and complicated cataracts.
Our technician program is tailored to office and allied medical personnel and promises to increase knowledge and expertise to make clinic and surgery run smoother, efficiently and improve outcomes.
Conference Chair
Ike K. Ahmed MD FRCSC
Assistant Professor
Fellowship Director, Glaucoma and Anterior Segment Surgery (GAASS) Fellowship
Research Director, Kensington Eye Institute University of Toronto
Division Head, Ophthalmology
Trillium Health Partners
Medical Director, Credit Valley EyeCare and Osler EyeCare
Co-Medical Director, TLC Mississauga
2023 Objectives
Participants will be able to:
Work through challenging and controversial cases in a case-based interactive format.
Understand the optics, indications, and complications of novel intraocular lens implant technology.
Leverage new technology to improve cataract outcomes.
Approach and manage comorbidities presenting with cataract.

Canadian Eyecare Today Issue No. 1
The first issue of Canadian Eyecare Today for 2022 is now available for your reading pleasure. This publication examines issues and topics that are relevant to today's clinician in the treatment and management of eye disease from a Canadian perspective.

To subscribe to this publication now, please click here.

Some of the content you will find in this issue THE EVOLVING ROLE OF OCT IN PATHOLOGIC MYOPIA
Carl Shen, MD Mark Seamone, MD Mark Greve, MD

METHODS TO TREAT MYOPIA PROGRESSION IN PEDIATRIC PATIENTS
Michael J. Wan, MD

SPOT THE DIFFERENCES: CHALLENGES IN DETECTING GLAUCOMA IN THE MYOPIC PATIENT
Cindy M.L. Hutnik, MD, PhD, FRCSC and Michael T. Kryshtalskyj, MD
Kian M. Madjedi, MD, MPhil
Andrew C.S. Crichton, MD, FRCSC

CATARACT SURGERY IN THE MYOPE: WHAT YOU SHOULD KNOW
Joshua Teichman, MD, MPH, FRCSC

GLAUCOMA AND MYOPIA: RISK FACTORS, PATHOPHYSIOLOGY, AND TREATMENT
Jing Wang, MD Please feel free to forward the publication link to your peers!
Professional Practice Webinar "MOC Update: Adding QI to your CPD Portfolio"
Topic: Professional practice webinar "MOC Update: Adding QI to your CPD Portfolio"
Registration is required to join this event. If you have not registered, please do so now. (Register)


Date and time: Thursday, November 25, 2021 12:00 pm
Eastern Standard Time (New York, GMT-05:00) Change time zone


Description: The Royal College has recently added quality improvement (QI) activities to its Maintenance of Certification (MOC) Framework, enabling fellows to earn MOC credits for their improvement initiatives. In this webinar, we will review the spectrum of QI work that is eligible for Continuing Professional Development (CPD) credit, and future plans for the Framework and Royal College QI support.

Learning Objectives:

At the end of this session, attendees will be able to:
•discuss the wide range of improvement projects that are eligible for MOC credits
•summarize the planned changes to the MOC framework
•describe the QI support that the Royal College intends to provide for its Fellows

The session will be in English only. Attendees are welcome to submit questions to the Presenters in French.
The webinar will be recorded.


Accreditation
The event is an Accredited Group Learning activity (Section 1) as defined by the Maintenance of Certification Program of the Royal College of Physicians and Surgeons of Canada, and approved by the Royal College Continuing Professional Development Unit. You may claim a maximum of 1 hour (credits are automatically calculated).


Precision Cornea Centre Tech Day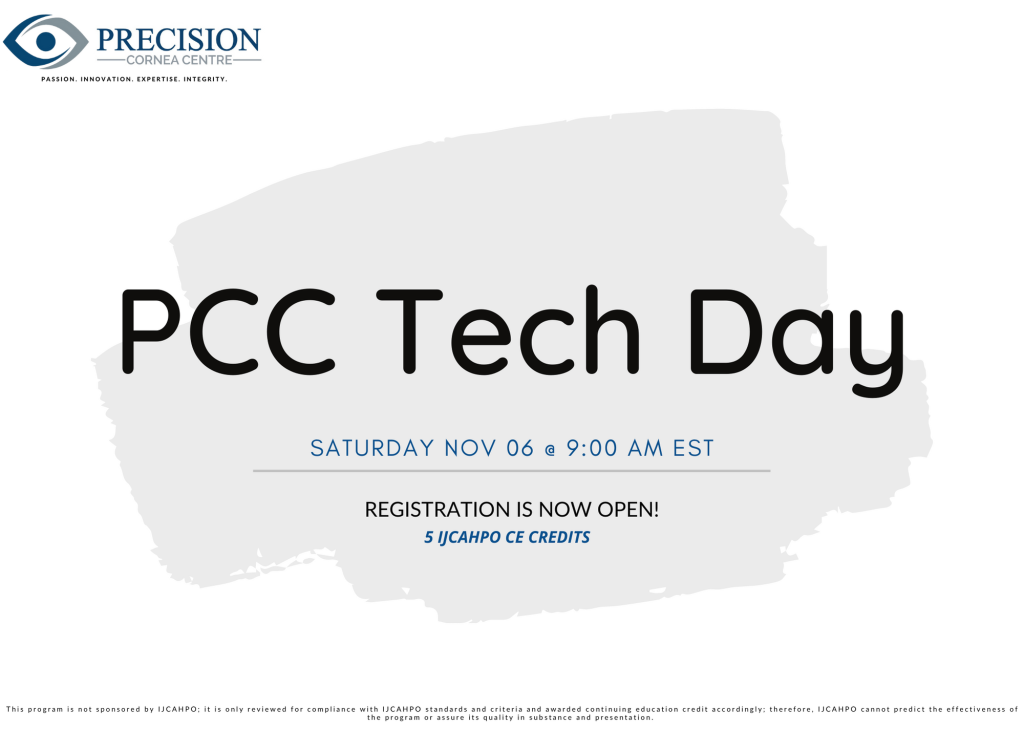 Join us for PCC Tech Day on November 6th, 2021 at 9:00 am! A full day of education, catered to Ophthalmic Allied Personnel, COAs, COTs and COMT.

The focused topic of the 1st annual PCC Tech Day is Cornea & External Disease. This broad topic will be thoroughly presented by a prestigious faculty of experts and eye care professionals. Speakers will review the diagnosis and management of the more commonly encountered anterior segment disorders, technology & medical devices and procedures. Emerging disease entities, new approaches to multimodal imaging and an overview of new treatments will also be highlighted. PCC Tech Day is designed for eye care professionals of all practice profiles, fellows, residents, medical students, nurses and allied ophthalmic health personnel.

LEARNING OBJECTIVES

At the end of the PCC Tech Day, participants will be able to:
• Have a thorough understanding of anterior segment anatomy, pathology and various diagnostic equipment in treating dry eye
• Identify and understand different specialty contact lens options & choose appropriate lens technology in patients with previous corneal pathology
• Discuss use of multimodal imaging in cornea & external disease
• Implement the various approaches to treating corneal disorder, including the use of ocular and systemic medications, surgery and medical devices.
• Review the functionality of various types of intraocular lenses
• Review corneal transplant options and indications in patients in key corneal disorders such as Keratoconus and Fuchs Dystrophy.

ACCREDITATION

The 1st annual PCC Tech Day has been submitted to the Joint Commission of Allied Health Personnel in Ophthalmology Continuing Education (CE) Credit Review Committee. This program has been accredited for 5.25 IJCAHPO CE credits. For more information, please visit https://www.jcahpo.org/.

EVALUATION
Program evaluation is a highly suggested component of the Joint Commission of Allied Health Personnel in Ophthalmology and Precision Cornea Centre Organizers. Your feedback is valuable for the continuous improvement of PCC Tech Day and is essential in developing a program that is relevant to your learning needs. Please complete an evaluation for each session that you attended and claim your CE credits. If not completed, your attendance will still be recorded during the program. The online evaluation is available here.
Agenda and details for PCC Tech Day :