DOVS CORNEA ROUNDS – VIA ZOOM
Date: Thursday November 30, 2023
Time: 5:00 PM – 6:00 PM
Title:  Refractive Reels 3
Speaker: Dr. Mariana Collazos
Zoom Link:  Register in advance for this webinar
After registering, you will receive a confirmation email containing information about joining the webinar.
Objectives:
To review the impact of HOA in quality of vision (CTK)
To discuss patient care management in refractive surgery
To discuss predicting post operative vault and optimal ICL size
62nd Annual Ophthalmology Walter Wright Symposium – Glaucoma Through Our Eyes

December 1 – 2, 2023 — Metro Toronto Convention Centre
The 62nd Annual Walter Wright Symposium will explore the world of glaucoma management through the many eyes of the eye-care team – from patients to trainees to specialists to researchers. Through multi-modal presentations including lectures, panel discussions, audience engagement and debates, we will review the current status and future possibilities of glaucoma management from multiple perspectives. We welcome a mix of international and domestic speakers to help guide us through the journey of diagnostic, medical, laser, initial surgical, and research in today's glaucoma world. Through these different viewpoints, we aim to provide key practical pearls for residents, fellows, community and academic ophthalmologists as well as allied health personnel. We look forward to connecting and engaging with you at this year's symposium.

Mayo Clinic Ophthalmology Update 2024

February 23 – 25, 2024 – JW Marriot Orlando Bonnet Creek Resort & Spa – Orlando, Florida
Course Directors:  Sophie Bakri, M.D., Richard TenHulzen, M.D. and Joanne Shen, M.D.
This three-day live and livestream conference offers comprehensive updates in ophthalmology and optometry that can be immediately applied to clinical practice. Topics will include neuro-ophthalmology, glaucoma, retina, cornea and external disease, oculoplastic and orbital surgery, and more.
Target Audience
Ophthalmologists, Optometrists, Physicians, Residents, Fellows, Scientist Researcher PhD, Health Professionals
Learning Objectives
Upon completion of this activity, participants should be able to:
Describe the evaluation and management of patients with macular degeneration
Describe common eyelid, lacrimal and orbital disorders
Identify appropriate management of patients with glaucoma
Attendance at any Mayo Clinic course does not indicate or guarantee competence or proficiency in the skills, knowledge or performance of any care or procedure(s) which may be discussed or taught in this course.
54th Sally Letson Symposium – Cornea, Cataract and Refractive Surgery: Sculpting The Path Forward

Registration for the 2023 Sally Letson Symposium Now Open!
Join us for the 54th Sally Letson Symposium chaired by Dr. Deepinder K. Dhaliwal, University of Pittsburgh School of Medicine, and Dr. Saama Sabeti (Co-chair), University of Ottawa Eye Institute
This year's topic is "Cornea, Cataract, and Refractive Surgery: Sculpting The Path Forward".
Join us on this 2.5-day program focused on Cornea, Cataract, and Refractive Surgery. Discover the cutting edge advancements cornea, including managing endothelial dysfunction, learn key concepts in cataract surgery, with IOL selection and intraoperative technology, and explore innovative refractive surgery techniques with a focus on presbyopia management.
Our esteemed guest speakers will provide engaging lectures and video presentations, guiding you through the material. Plus, special sessions on wellness will equip you with tools to care for yourself and your patients. Don't miss this opportunity for interactive learning and critical thinking.
Preliminary Schedule, Accommodation and Travel Discount Information
Take advantage of our Early Bird rates and register today! We look forward to seeing you September 21-23 at The Westin Hotel in Ottawa.
Early Bird Deadline ends August 15, 2023
QUESTIONS?
Registration
Rita Afeltra
[email protected]

Scientific Program and CPD Credits
Danika Nieuwkoop
[email protected]

Sponsorship
Christine Bruce
[email protected]
2023 American Glaucoma Society Annual Meeting
March 2 – 5, 2023, Austin, Texas

The 2023 American Glaucoma Society Annual Meeting will be held at the Marriott Austin Downtown March 2 – 5, 2023. The meeting will also be offered virtually. 
Join the AGS in celebrating our 2023 honored guests and lecturers!
Guest of Honor – Paul F Palmberg MD, PhD
AGS Lecturer – Pradeep Y Ramulu, MD, PHD
Surgery Day Lecture – Jody R Piltz-Seymour, MD
President's Award – Anne L Coleman, MD, PHD
Innovator Award – Douglas E Gaasterland MD
International Scholar – Jonathan G Crowston, MD, PhD
Clinician Scientist Lecture – Joshua D Stein, MD, MS
Outstanding Educator – Eydie G Miller Ellis, MD
Humanitarian Award – Alana L Grajewski MD

Save the Date – 2025 COS Annual Meeting & Exhibition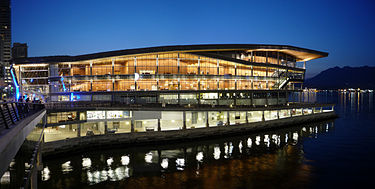 June 19th – 22nd, 2025
Vancouver Convention Centre, Vancouver, British Columbia
Save the Date – 2024 COS Annual Meeting & Exhibition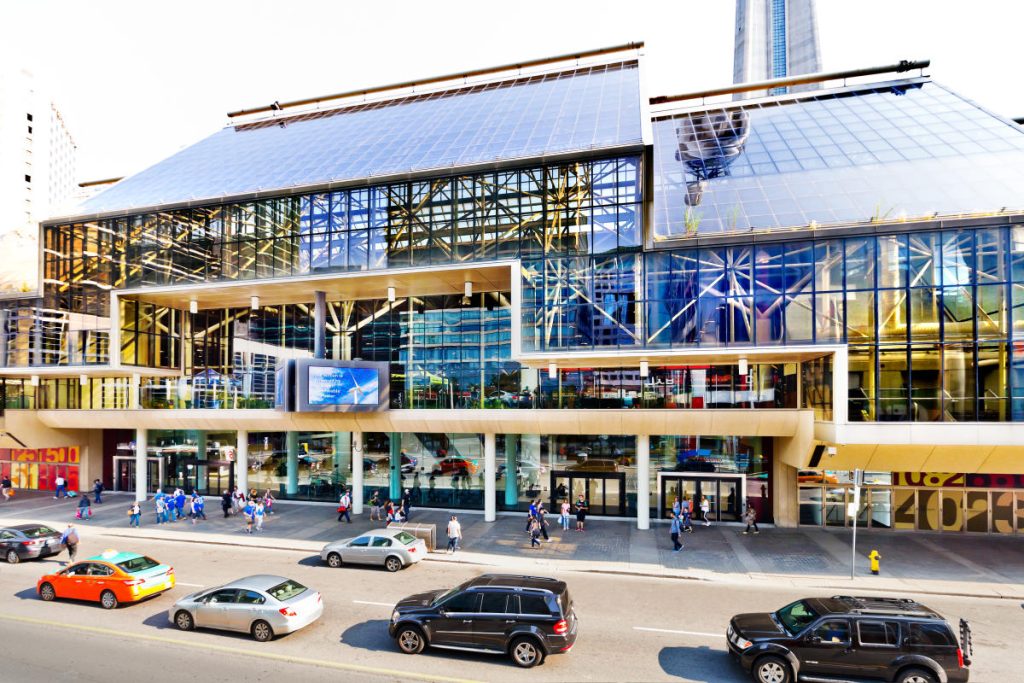 May 30th – June 2nd 2024
Metro Toronto Convention Centre, Toronto, Ontario
17th International Ocular Inflammation Society (IOIS) Congress

September 6th to 9th 2023, Berlin, Germany
A 4-day Live Congress, exchanging experience and knowledge, organized by the International Ocular Inflammation Society in the cosmopolitan city of Berlin from 6-9 September, 2023.
It will be a unique gathering of 34 international societies, 14 Sections, free papers and other Special Interest Symposia. The program committee led by Russell Read has already outlined robust scientific sessions, covering the broad spectrum of intraocular and extraocular inflammatory and infectious disorders. Special focus will be led on recent advances in ocular imaging, as well as our current knowledge of the underlying inflammatory pathogenesis of disorders such as age-related macular degeneration and diabetic retinopathy. Considerable advances have been made in our comprehension of inflammation-related eye diseases, and recent scientific progress has paved the way to novel therapeutic approaches. Moreover, the program will include surgical interventions in uveitis complications such as medical and surgical management of inflammatory ocular surface diseases, keratopathies, glaucoma and retinopathies.
The 17th IOIS Congress will provide a unique opportunity for educational and scientific exchanges for academic and clinical researcher as well as health care professionals and health industry representatives. We value and encourage the active participation and contribution of all professionals interested in ocular inflammation.

COS Forum 2023: Building the Future of Ophthalmology Webinar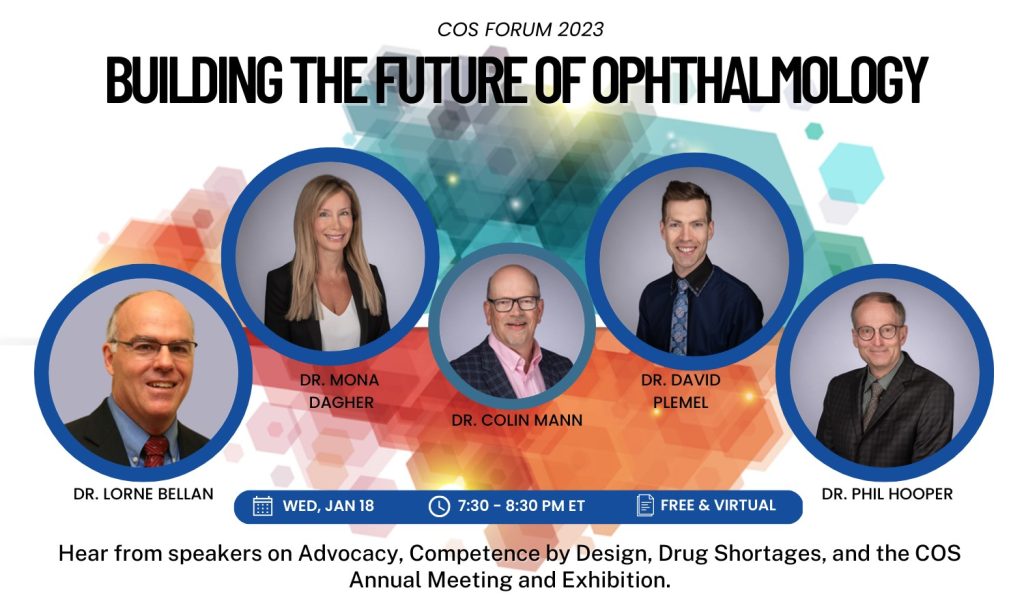 COS Forum 2023: Building the Future of Ophthalmology Webinar
Date: January 18, 2023
Time: 7:30-8:30PM ET
Join us for this free virtual event and learn about the future direction of the Canadian Ophthalmological Society. Hear from speakers on Advocacy, Competence by Design, Drug Shortages, and the COS Annual Meeting and Exhibition. We want to hear from you! Participate in polling questions and our lively Q&A, and tell us how we can support you.