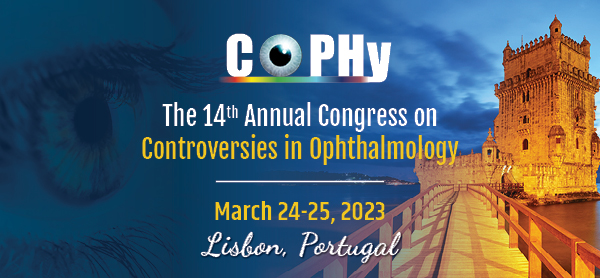 The 14th Annual Congress on Controversies in Ophthalmology: (COPHy) taking place in Lisbon, Portugal, March 24-25, 2023.
Date: March 24- 25, 2023
Location: Lisbon, Portugal
The great success of the previous COPHy Congresses, held across Europe in Prague, Barcelona, Istanbul, Budapest, Lisbon, Sorrento, Warsaw, Madrid, Athens and Dublin as well as the enthusiastic feedback received from the most recent virtual congresses, confirmed the need for proceeding with the 14th edition of this dynamic Congresses.
COPHy in Lisbon will follow the theme of our previous congresses and will be devoted to evidence-based debates and discussions amongst session moderators, speakers and the audience, all of whom will examine and analyze the most relevant and controversial issues within the field of ophthalmology. This educational Congress will continue to discuss controversies in retina, as well as other areas of ophthalmology, such as neuro-ophthalmology and uveitis.
Allowing ample time for speaker-audience discussion, the Congress aims at reaching up-to-date recommendations to ongoing debates even when data remains limited, through evidence-based medicine, including expert opinion. Participants will have the opportunity to take part in this vibrant meeting which will facilitate discussions on the shared experiences and opinions of leading local and international experts.