Telling It Like It Is Meeting

Drs. Robert Osher and Richard Lindstrom unite to bring you a comprehensive CME meeting
FEBRUARY 15-19, 2023
Location: Tampa Marriott Water Street Hotel
This meeting was established by Dr. Robert H. Osher a decade ago to deliver a candid style of teaching and learning on anything that cataract surgeons (and rising trainees) might find useful. To keep up with the educational needs of the attendees as their role in patient care continues to evolve, this meeting is about to enter phase two in 2023. Dr. Richard L. Lindstrom joins Dr. Osher as Program Director and the meeting is now titled "Telling It Like It Is" to more accurately indicate the program will cover all critically important areas for ophthalmologists.
To find out more and to register click the link below.

Hawaiian Eye 2023 – Retina

Hawaiian Eye is a meeting where everyone is motivated to look at new technologies and ideas together. The conference includes practice management topics to educate physicians, nurses and administrators in the room together to gain a shared viewpoint from the entire practice. There are interactive pro/con debates to create a fun and interesting format featuring point/counterpoint panel discussions with audience participation.
CPD Credits
Hawaiian Eye and Retina offer separate educational programs where comprehensive ophthalmologists can earn 32.5 CME credits, retina specialists can earn 25.5 CME credits, nurses/allied health professionals can earn 17.5 CNE/JCAHPO credits and administrators can earn 17.5 COE credits.
Access Details
For more information and to register, visit the event website.
APAO 2023 – 38th Asia Pacific Academy of Ophthalmology Congress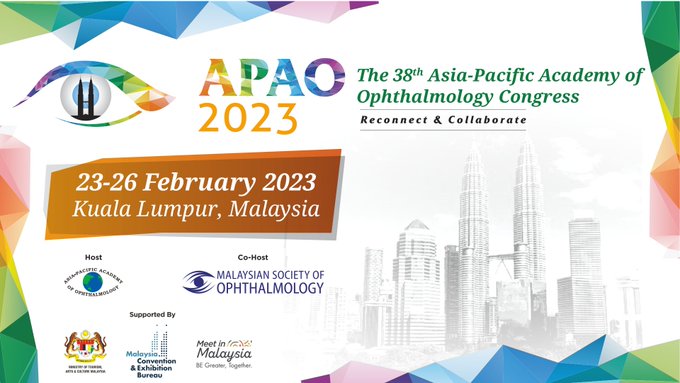 February 23rd – 26th, 2023, Kuala Lumpur, Malaysia
APAO Congress 2023 will be held under the theme of "Reconnect and Collaborate". After 2 years of COVID, a physical APAO Congress returns to Malaysia. Delegates are encouraged to register at their earliest convenience.
Moorfields Cornea Focus 2022 – Viral Keratitis: From Science to Therapy

Date: Wednesday June 8th, 2022
Venue: The British Museum, London, England
Time: 9am – 5pm
Topic: Viral Keratitis: From Science to Therapy
This meeting is free-of-charge and will be a hybrid event with both in-person and virtual attendance. The meeting is chaired by Mr Sajjad Ahmad, from Moorfields Eye Hospital, London, United Kingdom.
To view the full schedule and register, click the link below:

AIOC 2022
80th Annual Conference of
All India Ophthalmological Society

Date: June 2nd – June 5th, 2022
Jio World Centre
Bandra Kurla Complex, Bandra East, Mumbai
The society organises annual conferences in different parts of the country. In these conferences, a number of scientific activities that include instruction courses, symposia, lectures, post graduate refresher courses, booth lectures, wet labs, surgical skill transfer courses etc. are conducted for the promotion and mutual exchange of knowledge in the field of ophthalmic science.
The society also gives incentives to the members in the form of awards, orations, prizes and Fellowships in recognition of their services in the various specialties.
Click the link below to learn more and to register:

World Cornea Congress – Chicago, IL
Date: September 28th–29th, 2022
IMPORTANT DATES
Jan 3 – Abstract Submissions Open for Scientific Papers and Electronic Posters
April 15 – Deadline for Abstract Submissions
May 3 – Early Registration Deadline
Jul 31 – Program Preview Available Online
Aug 12 – Advance Registration Deadline
Sept 28–29 – World Cornea Congress VIII
For more details visit the World Cornea Congress website
ESCRS (European Society of Cataract & Refractive Surgeons)
Date: September 16th-20th, 2022
We are pleased to inform you that the 40th Congress of the ESCRS will take place at the MiCo Milano Convention Centre, Milan, Italy from Friday 16 to Tuesday 20 September 2022.
The Congress will be a primarily face-to-face event, supported by a number of virtual elements. ESCRS is proud to have been among the first international healthcare societies to return to "live" meetings in 2021 and is excited to continue in this direction in 2022.
Registration information will be released here soon.
For more details visit the ESCRS website
The Macula Society 45th Annual Anniversary Meeting
Date: June 8th – 11th, 2022
Location: The Ritz Carleton, Berlin, Germany
The Information Packet for the 45th Macula Society Annual Meeting is now available!
Click on the link below for more details and to register:

American Academy of Ophthalmology (AAO) Annual Meeting 2022
September 30th – October 3rd, 2022
Chicago, McCormick Place
For more details visit the AAO website.