Getting Your Program Accredited
As an Accredited CPD Provider, designated by the Royal College of Physicians and Surgeons of Canada (RCPSC), COS develops, approves and delivers activities for CPD credits under Section 1 and Section 3 of the RCPSC Maintenance of Certification (MOC) Program.
Working in collaboration with physician organizations, universities, industry partners, our members and other stakeholders, COS develops and accredits CPD activities based on the educational needs of ophthalmologists across the country. These activities will bring the latest developments on best practices in ophthalmology clinical practice and research.
National Standard for Support of Accredited CPD Activities
The intent of the National Standard for Support of Commercial Support of Accredited CPD Activities (the Standard) is to safeguard the integrity of accredited CPD activities from the influence of sponsoring organizations that could lead to bias. The Standard applies to all situations where financial and in-kind support is accepted to contribute to the development, delivery and/or evaluation of accredited CPD activities. Adherence to the Standard is required for the approval of all accredited CPD activities.
Accreditation Fees
Section 1 Activities
Activity budget of less than $15,000: $700 + HST
Activity budget of $10,000 to $50,000: $2,000 + HST
Activity budget of $50,000 to $100,000: $3,000 + HST
Activity budget of more than $100,000*: $5,000 + HST
*Activities with an activity budget of more than $100,000 will be assessed on the level of complexity of the activity and the accreditation fee may increase depending on the complexity. Any increase would be determined by the COS in consultation with the applicant.
Section 3 Activities
Online Self-Assessment Program
1-year accreditation: $3,000
2-year accreditation: $4,000
3-year accreditation: $5,000
Late Fees
Should an application be submitted for review less than four (4) weeks from the activity's start date, the accreditation fee doubles. This increase covers the costs associated with the expedited accreditation review process.
NOTE: COS will invoice the physician organization once the program application has been processed. Accreditation fees are non-refundable.
How to Get Your CPD Activity Accredited
1
Are you a Physician Organization?
2
A physician organization is defined by the Royal College as a not-for-profit group of health professionals with a formal governance structure, accountable to and serving, among others, its specialist physician members through continuing professional development, provision of health care and/or research.
Review
&
Is your proposed activity RCPSC Section 1, Section 2 or Section 3?
Section 1
Section 2
Section 3
I'm not sure
3
Review guide to accredited
OR
Is your activity Self-Assessment or a Simulation Program?
Simulation
Self-Assessment
I'm not sure
Review guide to accredited
OR
Review guide to accredited
OR
Still have questions? Contact the COS at [email protected] or by phone: 1-800-267-5763
Video Journal of Cataract & Refractive Surgery (JCRS)
The Video Journal of Cataract & Refractive Surgery (JCRS) is a monthly, preeminent, peer-reviewed medical journal covering refractive and lens-based optical surgery. JCRS has maintained its status as a prominent forum for original research, review, and evaluation of refractive and lens-based surgical procedures for more than 30 years.
The JCRS is the official journal of the International Society of Refractive Surgery, a partner of the American Academy of Ophthalmology. In addition, the medical community journal has been deemed the official journal of the American Society of Cataract and Refractive Surgery (ASCRS) and the European Society of Cataract and Refractive Surgeons (ESCRS).
The journal is published by Healio and features high quality articles on all aspects of anterior segment surgery. In addition to original clinical studies, the journal features a consultation section, practical techniques, important cases, and reviews as well as basic science articles.
Target Audience
JCRS is written with anterior surgery specialists in mind; however clinical studies, techniques, and cases offer invaluable tools for ophthalmologists across sub-specialties.
Learning Objectives
Practical, clinically valuable articles provide readers with the most up-to-date information regarding advances in the field of refractive surgery. Begin to explore the Journal and all of its great benefits such as:

• Columns including "Translational Science," "Surgical Techniques," and "Biomechanics"
• Supplemental videos and materials available for many articles
• Access to current articles, as well as several years of archived content
• Articles posted online just 2 months after acceptance
Access Details
Find the Journal of Cataract & Refractive Surgery (JCRS):
Facebook Page here, or visit the JCRS website here.
The first issue of the 2021 Video Journal of Cataract, Refractive, & Glaucoma Surgery entitled "History and Evolution of Contemporary Refractive Surgery" is available for viewing.
Update on Diabetes and the Eye for Primary Care Providers
This program was developed under the leadership of a multi-disciplinary steering committee, chaired by Dr. David Wong, ophthalmologist and Dr. Peter Lin, Family Physician. Steering committee members include Dr. Bernard Hurley and Dr. David Maberley (ophthalmologists), Dr. John Axler and Dr. Carl Fournier (family physicians), and Dr. Alice Cheng (endocrinologist).

This Self-Learning program has been certified by the College of Family Physicians of Canada for up to 1 Mainpro+ credits. The initiative was supported in part by an educational grant from Bayer.
This program will reinforce the importance of primary care providers in the care of the eye of patients with diabetes. An overview is provided on the ways in which primary care providers can help close the current screening and care gap for diabetic eye disease here in Canada. Participants will understand the consequences of delays in screening and they will be introduced to a practical tool developed by COS which will help encourage eye screening in people with diabetes. To help to reduce eye complications due to diabetes, the session will also emphasize the importance of good diabetes care in general.
Program Learning Objectives:
Describe the importance of retinopathy in patients with diabetes
Define macular edema, and proliferative and non-proliferative retinopathy
Recognize how to screen for these conditions
Summarize the current treatment options for our patients
CPD Credits
This Self-Learningprogram has been certified by the College of Family Physicians of Canada for up to 1 Mainpro+ credits
Patient Brochure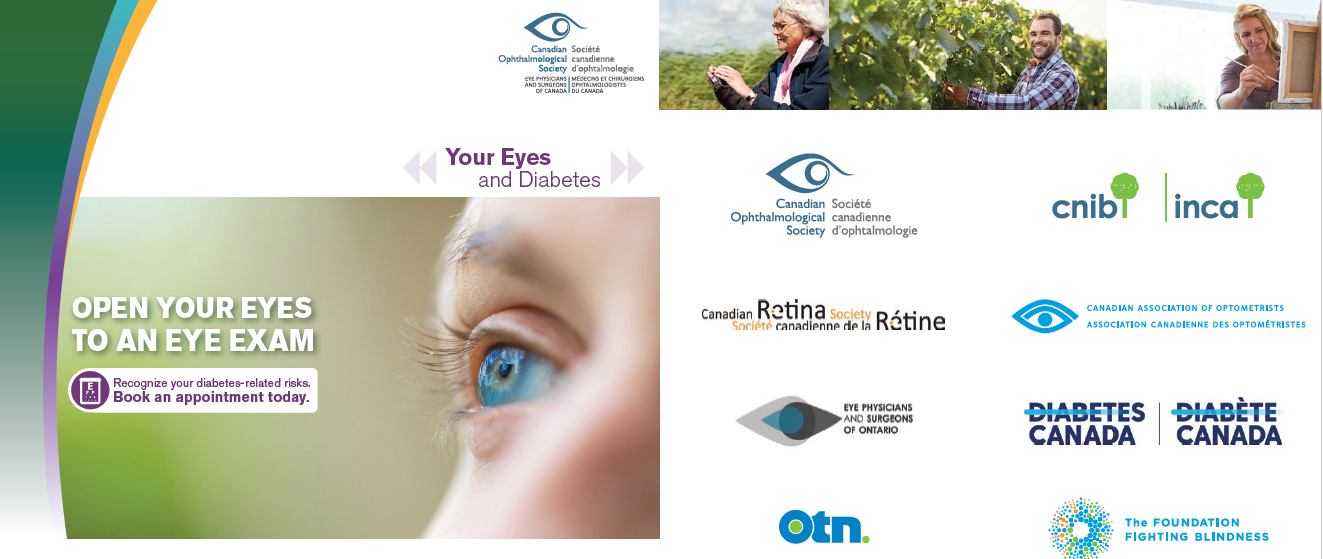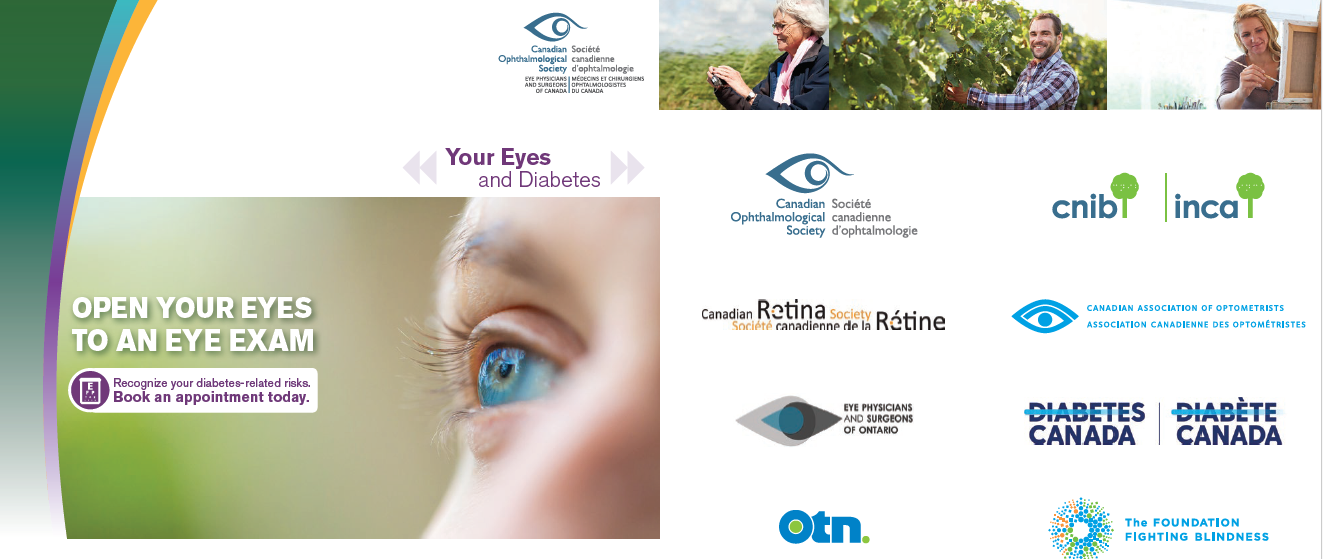 Access Details
Ergonomics for the Ophthalmologist Videos
The COS is pleased to provide access to the presentations on Ergonomics that took place during the 2017 COS Annual Meeting in Montreal, QC. On this page you will find a variety of resources and video presentations on the subject of ergonomics.
CPD Credit
Scanning resources that are relevant to your professional practice by enhancing your awareness of new evidence, perspectives and findings can be claimed as Section 2: Self-Learning under Scanning in MAINPORT with the MOC Program of the Royal College of Physicians and Surgeons of Canada.
Handouts
Video Presentation
1. Introduction
Dr. Lorne Bellan's brief introduction to the ergonomics session.
2. Re-attaching the focus on body mechanics and ergonomics
• George Matos, CAT(C)
During the 2017 COS Annual Meeting, George Matos presented two engaging lectures that encouraged delegates to re-attach their focus on body mechanics and ergonomics. During these sessions Mr. Matos explains the impacts of body positioning in the various aspects of ophthalmology, how this can negatively impact body mechanics and then he provides some tips and exercises to combat the negative effects.
PowerPoint slides for the above session: Matos Current Concepts Talk – Slides
3. The incidence and effects of work-related musculoskeletal injury among ophthalmologists
• Ashley Brissette, MD
Dr. Ashley Brissette presented her findings from a systematic review of current literature regarding ergonomics and work-related MSK injury in the field of ophthalmology.
4. Occupational musculoskeletal pain & injury in Canadian ophthalmologists
• Vlad Diaconita, MD
Dr. Vlad Diaconita presented the results from a survey that was sent out to the COS membership in spring 2017 regarding MSK pain and injury.
Discussion 1
5. Developing an educational module for ergonomics in ophthalmology
• Timothy Ratzlaff, MD
Dr. Timothy Ratzlaff discussed the content and creation of an educational module built by applying the main points highlighted in Ashley Brissette's literature review.
6. Canadian Ophthalmic Practitioner Ergonomic (COPE) survey
• Femida Kherani, MD
Dr. Femida Kherani presented the results from the COPE survey, which was sent out to multiple listservs in May 2017.
Discussion 2
This resource is only available in English.
Practical Ergonomic Tip: Mindfulness
The Hill-RBF (Radial Basis Function) Calculator is the joint project of the RBF Calculator Physician Team, Haag-Streit Switzerland, and Mathworks.
Access Details
Access the Hill-RBF Calculator through the website: https://rbfcalculator.com/online/index.html
Earning and Claiming CPD credits via the CJO
Earning CPD credits
You can earn Section 2 credits toward your Royal College of Physicians and Surgeons of Canada (RCPSC) Maintenance of Certification (MOC) requirements by:
Reading CJO articles: each journal article that you read and deem has had a significant impact on your learning or practice can be recorded individually — you will receive one (1) credit per article.
Peer reviewing CJO articles: you can earn up to 15 credits per year as a Peer Assessment activity. The 15 credits are eligible for your yearly contributions.
Claiming CPD credits
To claim CPD credits for reading CJO articles, you must record them in your MAINPORT ePortfolio as Section 2 Self Learning credits.
To claim CPD credits for peer reviewing CJO articles, you can either record them in MAINPORT yourself, or you can opt into our automatic transfer program and we will submit your Section 2 Peer Assessment credits directly to the RCPSC every year. The credits will appear in your MAINPRO dashboard for your review and approval. To opt into this program, please contact the Managing Editor at [email protected].
As you know, the College des médecins du Québec (CMQ) has approved a new regulation (Règlement sur la formation continue obligatoire des médecins), which came into force on January 1, 2019. The regulation stipulates that all physicians licensed in Quebec must report their continuing professional development (CPD) activities to the CMQ.
We want to reassure our Quebec members that COS accredited CPD activities are accredited through the Royal College Maintenance of Certification (MOC) Program and will qualify under the CMQ's new requirements. This means you will still be able to meet your CPD requirements by participating in COS accredited CPD activities.
The Royal College has confirmed that physicians licensed in Quebec will be able to fulfil their new CMQ requirements through the Royal College MOC Program and they will not have to report CPD activities twice. To facilitate this, the Royal College is mapping their MOC requirements to the CMQ requirements, which are reported in hours rather than credits. After that, the Royal College will expand MAINPORT ePortfolio to ensure the reporting of MOC data is seamlessly aligned with the CMQ requirements and platform.
If you have any questions about the new regulation and the new CPD reporting requirements, please contact the CMQ at [email protected].
We have also curated the following list of resources about the new CMQ regulation:
Royal College, Dialogue, December 2018, Quebec specialists: MOC cycles are changing — here's what you need to know:
FMSQ, Le Spécialiste, December 2018, p. 15:
A message from the COS Maintenance of Certification (MOC) Committee:
Colin Mann (Chair), MD
Chloe Gottlieb, MD
Glen Hoar, MD
Phil Hooper, MD
Rob Schertzer, MD
CanMEDS Program: Better Practice, Better Outcomes
The CanMEDS Framework was developed by the Royal College of Physicians and Surgeons of Canada to provide key strategies for healthcare professionals to increase efficiencies in their practice, improve communication with patients and colleagues, and demonstrate stronger leadership.
The program explicitly expresses how CanMEDS roles are used in everyday clinical and non-clinical practice. The CanMEDS roles have been developed based on what patients believe are the most important competencies and abilities that physicians should possess.
Target Audience
This self-assessment program was developed with local faculty and subject matter experts to ensure a high degree of scientific integrity, rigor and balance for practitioners.
Learning Objectives
After successful completion of the program, participants will be able to:
Use the CanMEDS Framework to improve your practice and your patient outcomes
Identify areas for your continuing professional development using the CanMEDS Framework in all seven roles: Communicator, Collaborator, Leader, Health Advocate, Scholar, Professional and Medical Expert
CPD Credits
This program was co-developed by the Royal College of Physicians and Surgeons of Canada and mdBriefCase Group.
This activity is an Accredited Self-Assessment Program (Section 3) as defined by the Maintenance of Certification Program of the Royal College of Physicians and Surgeons of Canada, and approved by the Royal College CPD Unit. You may claim a maximum of 1 hour (credits are automatically calculated).
Access Details
The online learning activity is free for RCPSC Fellows. To access the CanMEDS online self-assessment program, please visit the mdBriefCase website for more information.